Design by Nikolaj Blinkenberg Willadsen
The HANG ON system consists of a suspension board with one (Single) or two (Twin) grooves, available in four different widths – 40, 60, 80 and 120 cm.
The standard package consists of hooks and an acrylic decoration shelf.
Extra hooks, acrylic decorations shelves, and aluminum bookshelves can be purchased separately.
The suspension board is made of oiled oak with mahogany plugs.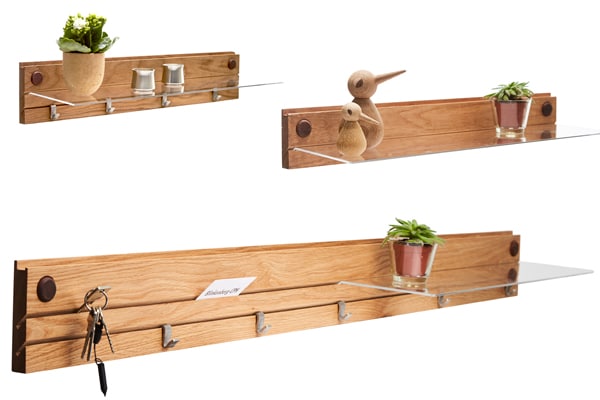 Rack, Shelf and Shelf Bracket – all in one
The HANG ON Concept is a coat rack – a key hanger – a credit card holder – a cell phone shelf and a Shelf Bracket – all in one. Just place the HANG ON board on the wall and attach accessories like the hooks, a shelf or a small container. The vertical hole on the right and the horizontal hole on the left makes it easy to place The HANG ON Board 100% horizontal, even if the holes you drill in the wall are a little skewed. Mount the magnetic mahogany round stick knobs in the holes to cover the screws after hanging the board on the wall, and you are ready to use your HANG ON board.