Design by Nikolaj Blinkenberg Willadsen
Cut- fold- attach – and Go Your Own Way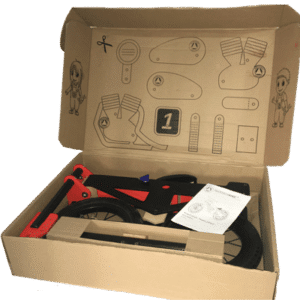 Creativity is a part of the BLINKENBIKE DNA. A cardboard box for the BLINKENBIKE delivery, is designed with cut-out-ready templates printed on the inside – perfect for a creative parent-and-kid project.
Just cut out, and you are ready to attach a motor, a headlight, gasoline tank, numberplate etc. without getting your hands dirty.
The templates are of course designed so customers can download fresh templates, and as a distributer, you can launch new templates on ongoing basis to keep relevant contact with your customers.
Blinkenbike Creative Designer – Free downloads
The templates below are the standard templates from the cardboard box – a variety of additional templates are already developed in alignment with new creative accessories.